Spicer apologises for 'reprehensible' Holocaust comments
Comments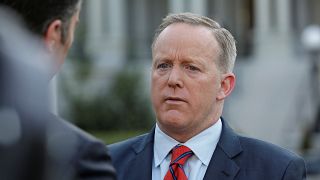 White House spokesman Sean Spicer has apologised for what he says are "inexcusable and reprehensible" comments appearing to compare the Syrian regime to that of Adolf Hitler.
His words fell on the Jewish holiday of Passover and as Christians prepare for Easter.
"It's—, it really is painful to myself to know that I did something like that because that obviously was not my intention. And, to know when you screw up that you possibly offended a lot of people—, I just, you know, and so I would ask obviously for folks' forgiveness to understand that I should not have tried to make a comparison," he said.
On Tuesday (April 11), Spicer triggered an uproar when he claimed Hitler brought people "into the Holocaust centre" and appeared to overlook the fact that the Nazi leader killed millions in gas chambers.