Dortmund attack: one held, two houses searched
Comments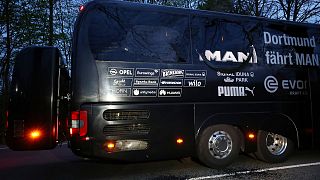 Germany's federal prosecutor says one person has been arrested in connection with the bomb blasts targeting the Borussia Dortmund team coach on Tuesday evening.
Spokeswoman Frauke Koehler says two houses have also been searched.
German investigators are reportedly looking into the possible involvement of Islamist militants in the blasts that went off near the bus carrying players from football club Borussia Dortmund to their Champions League match with AS Monaco.
Speaking to the press, Koehler said:
Bombs contained metal fragments
Debris covers 100m radius
Three letters with identical text found at scene
Demand for closure of US Ramstein air base
Islamist militant line of inquiry being pursued
Online "far-left" claim dismissed
One person being questioned by police
Two houses searched
In a statement earlier, State Interior Minister Ralf Jaeger said more police would be on duty for tonight's rescheduled Champions League match between Borussia Dortmund and AS Monaco.
Jaeger urged fans not to bring unnecessary bags and rucksacks to the ground as there would be more intense searches on entry.
He described the discovery of a letter at the scene as "extraordinary" but gave no further details. He did, however, point out that the document could be aimed at misleading investigators.
Innenminister Ralf #Jäger: #NRW wird sich Hass und Terror, ganz egal, aus welcher Richtung er kommt, nicht beugen. #BVBASM#Dortmundpic.twitter.com/sNA8pveWAn

—

MIK

NRW

(@miknrw) 12 avril 2017
What the papers say
The Suddeutsche Zeitung newspaper said a letter left near the scene of the attack on Tuesday claimed it was in retaliation for German military reconnaissance missions against ISIL in Syria.
The paper also says the letter might be a deliberate attempt to mislead investigators.
The German press agency DPA said investigators are examining a second letter, posted on an anti-fascism online portal, which said the attack was in retaliation for what it called the club's soft approach towards neo-Nazi and racist fans.
More details emerging
More details are emerging about the attack on Borussia Dortmund's team bus before the start of their Champions League clash with AS Monaco on Tuesday evening.
Defender Marc Bartra was injured. The match was postponed for 24 hours.
First letter found
State prosecutor Sandra Luecke said the letter found near the blast site was being examined.
She would not give details about its contents or whether it was authentic or not.
"The investigation is at this time for attempted manslaughter. A letter was found near the scene of the crime. The authenticity of the letter is being examined," Luecke told reporters.
Second letter
Investigators probing the blasts are examining a second letter claiming responsibility for the attack.
The online magazine Focus Online says a message posted on an anti-fascism online portal said the attack was in retaliation for what the letter called the soccer club's soft approach towards neo-Nazi and racist fans.
The attack – what we know
Three explosions near the bus as it left the team hotel at 1915
Defender Marc Bartra injured
Windows on the bus broken but damage limited
Team appeared to be the target but culprits not known – police
Champions League match with Monaco postponed for 24 hours
Letter found near site of blast – contents and authenticity not revealed
Islamic militant and neo-Nazi links have not been ruled out, investigators keeping an "open mind"
Federal public prosecutor has taken over the investigation
Attaque à #Dortmund : belle solidarité autour du stade hier soir, des supporters du BVB hébergeant même des Monégasques pour la nuit. ⬇️ pic.twitter.com/I5zc6LUeXE

— franceinfo (@franceinfo) 12 avril 2017
What they are saying
"After the initial investigation, we assume that this was an attack using serious explosives," – Dortmund Police said on Twitter.
"At this time, it is still not clear what the real background to this act is," – Dortmund Police Chief Gregor Lange told a late-night news conference.
#BREAKING Merkel 'horrified' by 'repugnant' Dortmund attack: spokesman

—

AFP

news agency (@AFP) 12 avril 2017
"My thoughts are with the team. It's important now to get to the bottom of this. I hope that football will be the focus again tomorrow," – German Interior Minister Thomas de Maiziere said on Twitter.
"I was deeply disturbed by the explosions which occurred tonight in Dortmund," UEFA President Aleksander Ceferin.
"The thoughts of every one of us at FIFA are with the people of Dortmund and the fans of both Borussia Dortmund and Monaco following today's troubling events," – FIFA President Gianni Infantino.