German police consider radical Islamic link for Borussia Dortmund bus attack
Comments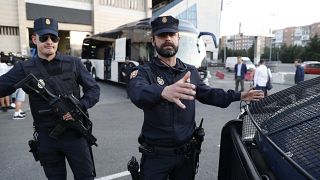 A German police investigation into who carried out the bomb attack on the Borussia Dortmund football team's bus is reportedly focusing on both Islamic extremists and anti-fascist groups.
It comes after two separate letters were found, both claiming responsibility.
The Sueddeutsche Zeitung newspaper reported that the first, discovered at the scene, referenced December's Berlin Truck attack. The letter also said the blasts had been in retaliation for Germany's military involvement in surveillance operations against the Islamic State militant group in Syria, according to the report.
The second letter, posted online, claimed the blasts were in retaliation for Borussia Dortmund's soft approach to neo-Nazi fans.
Dortmund's Spanish international Marc Bartra was the only player hurt in Tuesday night's incident. He later underwent surgery after breaking a bone in his wrist. A police officer escorting the team bus was also injured.
The football team had been heading to their home Champion's League quarter-final match with Monaco when the bombing took place. The fixture was immediately postponed and move to this evening.
Officials have insisted they will do everything they can to protect fans.
''Of course we cannot guarantee 100% security. We are trying to do our utmost to hopefully create a nice football evening here," a spokeswoman for Dortmund police said.
Following the Tuesday's incident, fans inside Dortmund's 80,000-capacity stadium were told to stay inside until it was safe to leave. It saw Monaco supporters show solidarity, chanting a chorus of ''Dortmund, Dortmund'' inside the arena.