Defiant Mahmoud Ahmadinejad to run for Iran's presidential election
Comments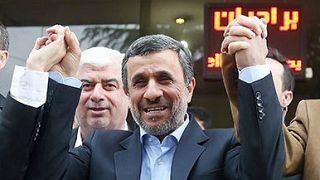 Iran's former president Mahmoud Ahmadinejad on Wednesday registered as a candidate for next month's presidential election, despite being told by the Supreme Leader to stay out of the race.
The surprise move will likely upend an election many thought would be won by moderate President Hassan Rouhani, who negotiated Iran's nuclear deal with world powers. Hard-liners in Iran are indeed hoping for a tough-talking candidate who can stand up to US President Donald Trump.
But for now the move is mainly tactical. Ahmadinejad said his decision to run was intended to help former Vice President Hamid Baghaei, a close ally who registered alongside him.
Registrations are open until Saturday and will be vetted by a clerical body by the end of the month.
Ahmadinejad previously served two four-year terms from 2005 to 2013. Under Iranian law, he became eligible to run again after four years out of office, but he remains a polarising figure, even among fellow hard-liners.
In shock rejection of supreme leader's advice, Ahmadinejad registers for election.
"Advice was not a ban" AFP</a><a href="https://t.co/b2wPVTw0R2">https://t.co/b2wPVTw0R2</a> <a href="https://t.co/X4b7DbNTvQ">pic.twitter.com/X4b7DbNTvQ</a></p>&mdash; Eric_in_Iran (EricWRandolph) April 12, 2017