US, Mexico, Canada announce joint bid for World Cup 2026
Comments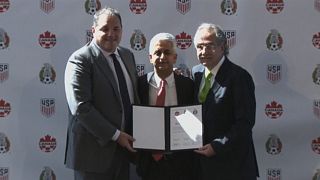 In a rare show of unity, the US, Mexico and Canada have announced a joint bid to stage the 2026 FIFA World Cup.
It's a series of debuts for the tournament. As well as being the first official proposal, if successful it will be the only time that the World Cup competition will have been shared between three nations.
What's more, 2026 will also be the first to include 48, rather than 32, teams.
.@POTUS is fully supportive of our unified bid for the 2026 #FIFA World Cup and especially pleased that Mexico is a part of it.

— Sunil Gulati (@sunilgulati) April 10, 2017
US Soccer President Sunil Gulati outlined their plans for the competition.
"We will bid together. The general parameters of that bid are a World Cup of 80 games, three-quarters of which would be played in the United States, 60 games in the United States and ten each in Canada and Mexico. The final decision on those things are up to FIFA, it's their tournament," he told reporters.
It's official! USA, Canada and Mexico declare intention to submit unified bid to host 2026 FIFA World Cup.

Details: https://t.co/Ua6lVOMXl6pic.twitter.com/ye10ll5ypR

— U.S. Soccer (@ussoccer) April 10, 2017
The last time the US hosted the tournament was in 1994 and had the highest average attendance in World Cup history.
If the bid wins, Canada will become one of just four nations to host both the men's and women's competitions. The latter was staged in 2015.
While Mexico would become the first country to stage matches at three World Cup finals.
A decision is due in 2020.