Berlusconi features in vegetarian video campaign and 'saves' five lambs
Comments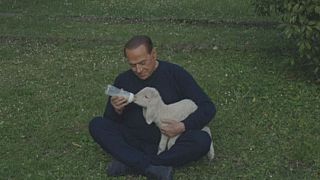 Former prime minister Silvio Berlusconi has angered Italy's meat industry by featuring in a campaign run by the Italian League in Defence of Animals, urging people to "choose a vegetarian Easter".
The 80-year-old is pictured on his parkland estate feeding and petting five lambs which captions say he has saved "from the Easter slaughter".
Berlusconi's girlfriend Francesca Pascale can also be seen in the video along with Michela Brambilla, an animal rights activist and member of parliament for his Forza Italia party.
Lamb and goat are traditionally eaten at Easter in Italy, but the industry has seen a decline in consumption over the last few years due to vegetarian campaigns.
Assocarni, Italy's butcher's lobby, has called for advertisers to boycott the politician's television channels and publications saying:
"It's incredible that even though he is a business person he is contributing to damaging the meat industry to try to get the votes of animal lovers." (Reuters)