South Africa: scuffles break out at pro- and anti-Zuma rallies
Comments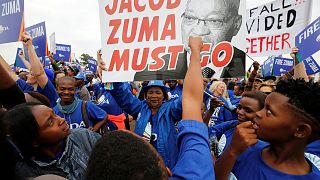 Scuffles have broken out during protests in Johannesburg: one, calling for the resignation of President Jacob Zuma and another in support of the leader.
More than 60,000 people marched through the South African city in what were largely peaceful rallies. However, at least four people were wounded after police fired rubber bullets at demonstrators who were attacking others with stones, a police spokesperson told reporters.
Zuma's presidency has been plagued by crisis, with the latest being triggered by a cabinet reshuffle.