South Africa: Brawls break out during Zuma's State of the Nation address
Comments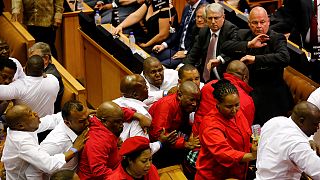 Brawls have broken out inside South Africa's parliament after opposition MPs were thrown out of the chamber during President Jacob Zuma's State of the Nation address.
Zuma was repeatedly stopped from speaking by opposition members, notably those from the radical Economic Freedom Fighters Party and its firebrand leader Julius Malema.
Addressing Zuma, Malema said: "Sitting in front of us here is a man who is incorrigible, an incorrigible man. Rotten to the core. And that has been found by the constitutional Court."
Eventually ordered to leave by the speaker, there were violent scenes as security teams moved in to eject the EFF's red clad members.
There was also chaos outside parliament in Cape Town as riot police clashed with government and opposition supporters.
Ahead of the annual event, Zuma angered some MPs by deploying more than 400 troops to maintain law and order in parliament on the day.
South Africa's president has faced countless calls to step down following allegations of corruption and cronyism, as well as his handling of the economy.