ANC rallies behind embattled Zuma as calls for him to quit grow
Comments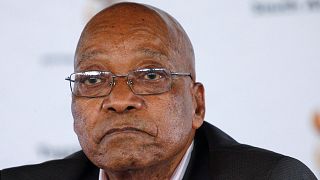 South Africa's embattled President Jacob Zuma has been backed by his ruling ANC amid growing calls for him to step down.
Zuma has come under mounting pressure to quit after sacking his respected Finance Minister Pravin Gordhan.
Despite demands, both in and outside the ANC, the party's national working committee rallied behind the president.
ANC Secretary-General, Gwede Mantashe said: "There is no ANC member who will vote for an opposition motion…That will be uncharacteristic of the ANC."
The rand fell more than 1 percent following the ANC's decision to back Zuma.
Gordhan sacking last week was condemned across South Africa's political spectrum and saw a key union federation withdraw its support for the president.
The country's credit rating was also downgraded to junk status following Gordhan dismissal.
Since taking office in 2009, the Zuma has repeatedly denied accusations of corruption, with senior ANC officials backing him.