US strikes Syria: Trump does what he warned Obama against doing
Comments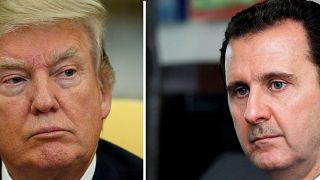 In carrying out a surprise overnight military strike on Syria, US President Donald Trump has placed himself in the very position he took to Twitter four years ago advocating to President Barack Obama not to intervene in Syria.
During a period of several days from August to September Trump took to social media to attack the Obama administration wrestling at the time with a devastating chemical attack allegedly carried out by Syrian President Bashar al Assad's regime.
It was August 21, 2013. Overnight, more than 1,000 civilians lay dead in rebel-held sections of the Syrian capital. Obama's "red line" had been crossed. The United States was on the war path.
President Obama was expected to strike Syria during the last weekend of August.
Trump, perhaps sensing an opportunity to lampoon the Democratic President, unleashed a series of warnings and contradictory suggestions – shoot first, but don't intervene.
If we are going to continue to be stupid and go into Syria (watch Russia), as they say in the movies, SHOOTFIRSTANDTALKLATER!

— Donald J. Trump (@realDonaldTrump) August 29, 2013
What will we get for bombing Syria besides more debt and a possible long term conflict? Obama needs Congressional approval.

— Donald J. Trump (@realDonaldTrump) August 29, 2013
The world was on the brink of another possible US-led coalition in the Middle East and the UK Parliament was preparing to vote on whether to go to war.
At the time, the Syrian conflict had raged for two years.
That Friday, August 30, MPs in London narrowly voted down Prime Minister Cameron's push to strike Syria, 285 to 272. The US followed the UK's lead.
President Obama that weekend opted for a more measured approach which, with help from Russia, called for the elimination of 1,300 tons of chemical weapons.
The worst had seemingly been avoided and although tensions remained high, the threat of Syria's vast chemical arsenal seemed mostly neutralised.
By October 2013, Assad's regime agreed to have a multinational coalition remove and destroy its chemical weapons.
But during the month of September, Trump didn't let up. His attacks on US foreign policy with regards to Syria continued.
His warning was simple and fits with the relatively isolationist – America first – rhetoric which would characterise his 2016 presidential campaign.
If the U.S. attacks Syria and hits the wrong targets, killing civilians, there will be worldwide hell to pay. Stay away and fix broken U.S.

— Donald J. Trump (@realDonaldTrump) September 3, 2013
What I am saying is stay out of Syria.

— Donald J. Trump (@realDonaldTrump) September 4, 2013
The only reason President Obama wants to attack Syria is to save face over his very dumb REDLINE statement. Do NOT attack Syria,fix U.S.A.

— Donald J. Trump (@realDonaldTrump) September 5, 2013
We should not attack Syria but if they make the stupid move to do so, the Arab League,whose members are laughing at us, should pay!

— Donald J. Trump (@realDonaldTrump) September 5, 2013
President Obama, do not attack Syria. There is no upside and tremendous downside. Save your "powder" for another (and more important) day!

— Donald J. Trump (@realDonaldTrump) September 7, 2013
Don't attack Syria – an attack that will bring nothing but trouble for the U.S. Focus on making our country strong and great again!

— Donald J. Trump (@realDonaldTrump) September 9, 2013
Obama must now start focusing on OURCOUNTRY, jobs, healthcare and all of our many problems. Forget Syria and make America great again!

— Donald J. Trump (@realDonaldTrump) September 11, 2013
We should stop talking, stay out of Syria and other countries that hate us, rebuild our own country and make it strong and great again-USA!

— Donald J. Trump (@realDonaldTrump) September 13, 2013
But then reports came out on April 4 of a suspected Syrian gas attack in Khan Sheikhoun.
While the attack prompted international condemnation, there was hope the world's leaders would work toward a UN resolution and avoid unilateral military action.
The war in Syria had drastically changed. Russia had entered the fray. So did Turkey, heightening the risk of a much larger international incident should a military strike accidentally kill any of those soldiers.
Years earlier, in May 2013, UN investigator Carla Del Ponte said she had testimony suggesting rebels may have perpetrated Sarin gas attacks in Syria.
Both sides of the conflict accuse each other of using chemical weapons in Aleppo, Damascus, and Homs.
But Trump stayed true to his shoot first mentality – launching 59 Tomahawk missiles at Syria's Shayrat Airfield and killing six people – before investigators could definitively prove Assad's regime was behind the attack.
His strike was also done without a UN resolution and without Congressional approval, the latter of which four years ago, Trump had warned Obama against doing.
US officials described the strike as a "one off", meant to dissuade Damascus from carrying out any other attacks.
Since the attack Russia has suspended a 2015 agreement it struck with the United States on air safety above the Syria. The risk of mid-air collisions between the two powers, Kremlin spokesperson Dmitry Peskov said, is "already significantly increased."
Russia has blasted the United States for carrying out the strike, which its Foreign Ministry said was "thoughtless" and "exacerbates existing problems and threatens global security."
For its part, Russia says it will bolster Syria's air defence capabilities, while Turkey and Syrian opposition groups urge for more to be done to oust Assad.
Syria's presidency has said in a statement the US strike has only emboldened its resolve to achieve victory in the conflict.
It said the attack showed the United States is "naively pulled behind a false propaganda campaign."
"This aggression has increased Syria's resolve to hit those terrorist agents, to continue to crush them, and to raise the pace of action to that end wherever they are."