US missiles strike Syria regime airbase
Comments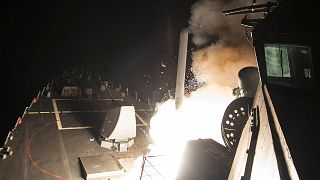 The United States has launched a military strike on a Syrian government airbase.
The Pentagon says 59 Tomahawk cruise missiles were fired from two US warships in the eastern Mediterranean at 04:40 Syrian time on Friday morning.
Their target was the Shayrat airfield from which the US says the Assad regime launched a poison gas attack on a rebel-held town this week that killed dozens of civilians including many children.
Live updates: U.S. military strike on Syrian government airbase
Here's video from the #Tomahawk launches against #Syria. For more on the story, visit https://t.co/2GprTQGGjs. pic.twitter.com/kB3gbBy4ma

— U.S. Dept of Defense (@DeptofDefense) April 7, 2017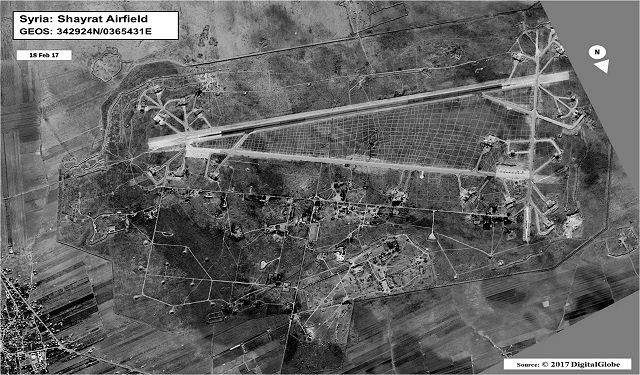 _Photo: DigitalGlobe/Courtesy U.S. Department of Defense/Handout via Reuters
_
UK-based monitoring group, the Syrian Observatory for Human Rights, said the missiles had almost completely destroyed the base near Homs city and killed at least four soldiers, including a senior officer.
President Trump responds
The strikes follow a suspected chemical attack on rebel-held Idlib province, in which more than 70 people were killed.
US National Security Adviser, H.R. McMaster says Trump was given three options for retaliating against Tuesday's attack and told advisers to focus on two. McMaster said the president made a decision on Thursday.
Trump later said: "Today I ordered a targeted military strike on the airfield in Syria from where the chemical attack was launched."
The strikes were, he said, in the national security interests of the US.
Tonight I ordered a targeted military strike...... pic.twitter.com/3nUzrdiGzX

— President Trump (@POTUS) 7 avril 2017
Trump's order to launch the missiles came a day after he accused his Syrian counterpart of responsibility for the deadly chemical attack which Assad's government strongly denies carrying out.
"No child of God should ever suffer such horror," Trump said in a statement following the military action.
The US leader added that there is "no dispute" that Syria used banned chemical weapons and said that attempts to change Assad's behaviour have failed.
The president went on to urge "all civilised nations" to rally against the Syrian leader.
As international reaction started coming in, Saudi Arabia was among the first to express full support for the US' actions, Arabiya TV reports.
Syrian reaction
The governor of Homs has been quoted as saying the attack serves the goals of "armed terrorist groups" and ISIL.
"Syrian leadership and Syrian policy will not change," Talal Barazi told state television in a phone interview.
"This targeting was not the first and I don't believe it will be the last."
A US defence official has called the incident a "one-off", according to Reuters news agency.
However, a media official for the Syrian National Coalition has expressed hope that the US strikes will continue in order to stop Syrian government air strikes and the "use of internationally banned weapons."
According to Barazi, firefighting and rescue operations were underway at the base for at least two hours following the strikes.
He said military positions were targeted in Syria and in Homs specifically, in order to publically "serve the goals of terrorism in Syria and the goals of Israel in the long run."
Barazi claims the targeted air base supports Syrian Army operations against ISIL.
However, the US military says the strike appears to have reduced the Syrian government's ability to deliver chemical weapons.
Trump has until now focussed his Syria policy almost exclusively on defeating Islamic State militants in northern Syria, where U.S. special forces are supporting Arab and Kurdish armed groups.
Russia 'pre-warned'
The Pentagon says it informed Russian forces ahead of the cruise missile strike. Spokesman Captain Jeff Davis confirmed the strikes did not hit sections of the base where Russians were believed to be present.
However, the toughest direct US action to date in six years of civil war in Syria signals a sudden shift in policy by Washington and increases the likelihood of confrontation with Assad's main military allies, Russia and Iran.
Russian President Vladimir Putin believes the missile strikes broke international law and have seriously hurt US-Russia relations, news agencies cited the Kremlin as saying.
The Russian leader regarded the strikes as "aggression against a sovereign nation" on a "made-up pretext" and as a cynical attempt to distract the world from civilian deaths in Iraq, Putin's spokesman Dmitry Peskov was cited as saying.
DETAILS: Putin regards strikes as aggression against a sovereign nation, carried out under invented pretext - spox https://t.co/hs3x3GYhx1

— RT (@RT_com) 7 avril 2017
The Head of the Russian Upper House of Parliament Defence Committee said US strikes could undermine efforts to fight terrorism in Syria, RIA agency reports.
"This could be viewed as an act of aggression of the US against a UN nation," Viktor Ozerov is quoted as saying.
Both Russia and Bolivia are said to have called for an urgent meeting of the UN Security Council to discuss the matter.
Russia to demand urgent #UNSC meeting following US #MissileStrike on #Syriahttps://t.co/lBeqFiuiAVpic.twitter.com/DDtvrAuk16

— Sputnik (@SputnikInt) 7 avril 2017
Speaking ahead of the strikes, US Secretary of State Rex Tillerson said Assad should have no role in a future Syria.
In the aftermath, he accused Russia of failing to carry out a 2013 agreement to secure Syrian chemical weapons and said Moscow was either complicit, or incompetent, in its ability to carry out the accord.
with Reuters