Homs governor says US strike was to 'serve the goals of terrorism'
Comments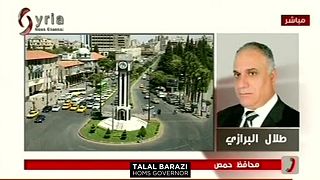 The governor of Homs says the US missile attack on an air base near the western Syrian city was to "serve the goals of terrorism."
"Syrian leadership and Syrian policy will not change," Talal Barazi told state television in a phone interview.
"This targeting was not the first and I don't believe it will be the last."
He said military positions were targeted in Syria and in Homs specifically, in order to publically "serve the goals of terrorism in Syria and the goals of Israel in the long run."
"We will not be surprised to see the Americans playing a direct role on the ground to support its goals everywhere," he added.
The US military says the strike appears to have reduced the Syrian government's ability to deliver chemical weapons.
Barazi claims the targeted air base supports Syrian Army operations against ISIL.