Syria again rejects claims it was behind chemical attack
Comments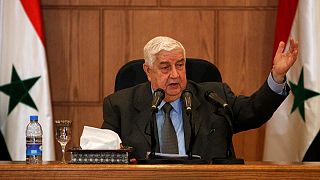 There are more strong denials from the Syrian government amid worldwide condemnation of the chemical attack that killed at least 70 people including children.
The Syrian foreign minister said his country does not use chemical weapons, rejecting claims that it was behind the atrocity in the town of Khan Sheikhoun on Tuesday.
Walid Moallem said talk of the incident came at about 6:00 am in the morning.
"The first air raid conducted by the Syrian army was at 11:30 on that day," he said.
"It attacked a weapon's depot belonging to the Nusra Front, which contained chemical weapons."
The UN says it hopes the attack is a "watershed moment" that leads to fresh peace efforts.
Jan Egeland, the Special Advisor to the United Nations Envoy for Syria, said: "A war where children suffocate to death because of toxic chemicals is a very, very dirty war."
Western countries, including the US, have blamed the Syrian President Bashir al-Assad of being responsible for the poison gas attack, the worst in Syria for more than four years.