Russians rally in tribute to victims of St. Petersburg metro bombing
Comments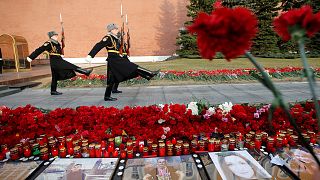 Thousands rallied at memorial events in Russia on Thursday to pay tribute to the victims of the St. Petersburg metro attack.
Over 50,000 people gathered on Moscow's Manezhnaya Square, according to police.
Russia stages anti-terrorism rallies after St. Petersburg bombing https://t.co/dPmm7fV46lpic.twitter.com/XLncwcImJ4

— Bloomberg Politics (@bpolitics) April 6, 2017
The nation observed three days of mourning following Monday's suicide bombing, which killed 14 people and wounded 50.
Irina Medyantseva, an arts teacher and doll designer, was among 14 people killed by Monday's suicide bombing. He 29-year-old daughter Alyona was one of 50 others wounded in the attack.
Russian investigators have named the suspected bomber as Akbarzhon Jalilov, a Russian citizen who was born in mainly Muslim Kyrgyzstan.
Authorities have detained eight men suspected of being his accomplices, according to Russian media.
St Petersburg metro attack: 'Bomb' found in police raid https://t.co/ZFGFUOcjp2pic.twitter.com/ftifA0UNj5

— euronews (@euronews) April 6, 2017