Russia pays tribute to St Petersburg metro bomb attack victims
Comments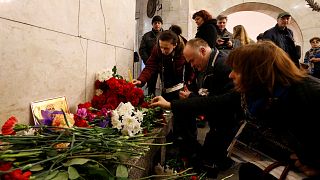 People have been paying tribute to the victims of the St Petersburg metro bombing.
The city has declared three days of mourning and many laid flowers at a makeshift memorial next to the metro stations where the deadly explosion went off.
Those caught up in the blast have also been speaking of the mayhem during the attack.
"I took an empty seat and two of my friends were standing next to me. When we were in the tunnel there was a flash somewhere to my left. Something fell on me and as far as I could tell it was a burning lamp, then I told my friends to get down on the floor and cover their heads. It was really very scary and the most terrifying thing was that there would be a second explosion. Then people started to panic," eyewitness Eldar Bagirov said.
Many residents remain deeply shocked by Monday's events, finding it hard to understand that someone would want to cause such harm.
"What is going on with people, this is an atrocity. Its unbelievable. They should be punished. Let fate punish them"
Tributes have also taken place in Moscow. Earlier a church service was held for victims in the Russian capital's main cathedral.