Kyrgyzstan fertile ground for would be jihadists
Comments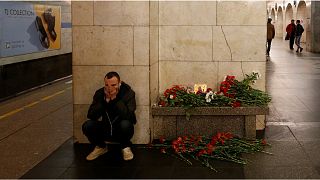 Kyrgyzstan is the focus of the police investigation following the St Petersburg attacks. The former Soviet Republic of Central Asia is being monitored for its growing links to Islamic terrorism.
Trust BBCNews</a> to suggest <a href="https://twitter.com/hashtag/StPetersburg?src=hash">#StPetersburg</a> terrorist <a href="https://twitter.com/hashtag/AkbarzhonJalilov?src=hash">#AkbarzhonJalilov</a> from <a href="https://twitter.com/hashtag/Kyrgyzstan?src=hash">#Kyrgyzstan</a> may hv acted bcoz of poor living conditions in Russia! <a href="https://t.co/3qea5SUMAX">pic.twitter.com/3qea5SUMAX</a></p>— Tarek Fatah (TarekFatah) April 4, 2017
It has an ideal geographical location and porous borders.
Bishkek residents bring flowers to Russian Embassy in Bishkekhttps://t.co/VV2VsE9zERpic.twitter.com/0pElsIoHpL

— eng24.kg (@Eng24Kg) April 4, 2017
Proximity to Islamist strongholds in Pakistan and Afghanistan make the area fertile for would be jihadists, especially in the south of the country.
Footage filmed by security forces in 2015 purport to show ISIL recruiters in the city of Osh, the place where the suspected St Petersburg attacker hails.
https://t.co/b2QYwrFLji
Kyrgyzstan to launch first-ever counter-terrorism programme pic.twitter.com/NdFbAEZkZm

— Caravanserai (@CaravanseraiEN) December 28, 2016
According to the Federal Security Service 7,000 nationals of the former Soviet Union have been recruited to Iraq and Syria, including 2,900 Russians.
Kyrgyzstan authorities estimate 600 of its nationals have joined ISIL.
The rise of Islamic militancy is a worry for authorities, as well as the wider population, they witness the youth being lured by falsehoods and crucially cash in this very poor country.
Zhenishbek Toktogulov,lives in the capital Bishkek:"At any moment the situation here can explode. Why? Because the militants move through Kyrgyzstan on their way to Turkey to reach Syria.Our people, Our men are going there. How many are being trained? If they all return here, what will happen?"
More than two million low-paid labourers from Central Asia work in Russia and this a concern for the Russian authorities. Moscow's active intervention in Syria means intense security vigilance at home.