Serbian Premier Aleksandar Vucic elected president
Comments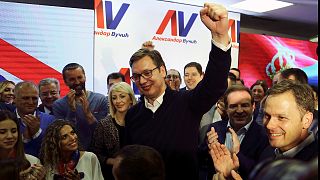 Celebrations at the Belgrade headquarters of Serbia's ruling Progressive Party. Their candidate, Prime Minister Aleksandar Vucic, has won a solid victory in the first round of the presidential election, confirming his domination of the Balkan country as he pursues a delicate balancing act between Europe and Russia.
"The election shows that most people want the reforms to continue, they want Serbia to continue along the European path, while keeping our traditional friendship with Russia and China," said Vucic.
Although the office of president is largely ceremonial in Serbia, Vucic is expected to retain de facto power through his control of the ruling Progressive Party.
According to political analyst Dejan Vuk Stankovic, "The continuation of EU accession requires constitutional changes and I think that very soon he will start to do that. He has one big obstacle there, because he does not have complete control over the parliament."
The result marks a political humiliation for Serbia's beleaguered opposition parties, which say Vucic's rule is increasingly autocratic.
Vucic picked up more than 55 per cent of votes – far ahead of his nearest rival, former ombudsman Sasa Jankovic, who polled 16%, and satirical candidate Luka Maksimovic, who came third with 9%.
"Mr Vucic will be moving into the presidential palace in two months. His first step is to find support for his constitutional changes. The challenge for the opposition is to find fresh faces and fresh ideas for this new reality. Ivana Miloradovic from Belgrade for Euronews," said Euronews' correspondent in Belgrade, Ivana Miloradovic.