Al-Sisi: no longer a pariah in Washington
Comments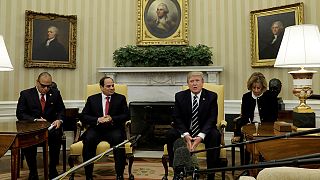 No longer a pariah in Washington: Egyptian president Abdel Fattah al-Sisi has made his first visit to the White House since being elected in 2014.
US president Donald Trump made clear his intention to reset bilateral ties between Washington and its long-standing ally, Cairo.
"We agree on so many things. I just want to let everybody know, in case there was any doubt, that we are very much behind President Sisi. He's done a fantastic job in a very difficult situation. We are very much behind Egypt and the people of Egypt," said Trump.
His predecessor, Barack Obama, was critical of Mr Sisi's bloody crackdown on Egyptian Islamists and dissidents.
Trump made no mention of concerns by human rights groups over the tens of thousands of political prisoners detained under Sisi's rule.