Sturgeon puts pressure on London for Scotland independence vote
Comments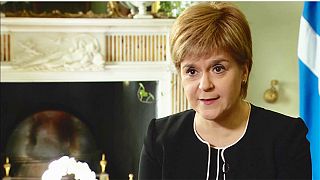 Downing Street received a letter from Scottish First Minister Nicola Sturgeon on Friday, formally demanding a second independence referendum, before the United Kingdom leaves the EU.
The will of the Scottish Parliament must be respected

Scottish First Minister
Scotland's devolved parliament has backed Sturgeon's bid for the vote.
But the UK government in Westminster must give its approval before any such poll can he held.
British Prime Minister Theresa May opposes the plan but Sturgeon, of the nationalist SNP party, is determined.
"In my view, the will of the Scottish Parliament must be respected," she said.
"It is a question not of if it is respected, but how, and if the prime minister chooses not to do that, I will set out to parliament over the next few weeks what I intend to do to make sure that the will of the parliament is respected and we make progress towards giving the people of Scotland a choice."
Watch First Minister @ScotGovFM@NicolaSturgeon on why she is formally asking for powers to hold a second independence referendum pic.twitter.com/rrg9ruxR6Q

— Scottish Government (@scotgov) 31 mars 2017
First Minister @NicolaSturgeon in Bute House, Edinburgh, working on final draft of Section 30 letter to Prime Minister Theresa May pic.twitter.com/Blj7jlDpDT

— Scottish Government (@scotgov) 30 mars 2017
May has already said that it is "not the right time' for another referendum, having only just formally begun the complex two-year divorce talks between the UK and its 27 EU partners.
PM on triggering Article 50: This is an historic moment from which there can be no turning back. https://t.co/w3hTUsh8oZpic.twitter.com/Y1TabdLiPk

— UK Prime Minister (@Number10gov) 29 mars 2017
But in voting north of the border in last summer's Brexit referendum, Scotland expressed its wish to stay in the bloc.
Separately, Scots rejected independence in a 2014 vote by 55 to 45 percent, but Sturgeon says the situation has changed because of Brexit.
A spokesman for May said the UK government would respond in due course to the letter but ruled out discussions on a second secession vote.
"At this point, all our focus should be on our negotiations with the European Union, making sure we get the right deal for the whole of the UK," the spokesman said.
with Reuters