Sturgeon pushes for second Scottish referendum
Comments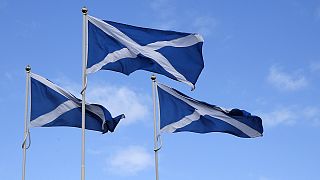 Scotland's parliament was widely expected to back the Scottish First Minister's call for a second referendum on independence.
Nicola Sturgeon's argument over holding another referendum only 30 months after the first one narrowly rejected independence revolves around Brexit.
For British Prime Minister Theresa May, who met Sturgeon recently to discuss Brexit and independence, the two issues could not be more important to the UK's future.
Publicly, May's message is clear enough. "We should be working together to get that right deal for Scotland, that right deal for the UK, that's my job as prime minister and so for that reason I say to the SNP now is not the time," she said after meeting Sturgeon last week.
Theresa May and Nicola Sturgeon meet to discuss Brexit. The Daily Mail wants to know: Who had the best legs? #legsithttps://t.co/mye5xPejcO

— Hannah Olivennes (@HannahOlivennes) March 28, 2017
The Scottish First Minister's argument is that holding a referendum in autumn 2018 or spring 2019 makes sense because May has announced that the full details on the Brexit deal will only be known by then.
That might be good timing for the SNP, but it's very bad timing for the UK government which is already working overtime trying to engineer a successful Brexit deal without having to deal with the potential break up of the UK.
Scotland voted 55 percent against independence in September 2014 and opinion polls suggest the percentages haven't moved very much since then.
But there are signs that Sturgeon's stance on membership of the EU could be far more fluid. She started out calling for full membership of the EU, but analyst say this might not be her final position on it.
Nicholas Cross, a lecturer at Edinburgh University, believes the SNP, like Theresa May, is having to face up to the complexities of Brexit and the options it may or may not present in the future.
"They say this is about ensuring a place in Europe, but there's also been some reports that they are now discussing about European free trade area or European economic area rather than rejoining the EU. So I think even the SNP are uncertain about which way to go with regards to Europe," he said.
One thing is set in stone however. EU Commission President Jean-Claude Juncker has made it clear that Scotland would have to formally re-apply for EU membership if it gets independence.