Scottish parliament backs bid for second independence referendum
Comments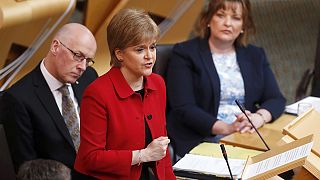 The Scottish Parliament has voted to back a bid for a second referendum on independence from the UK.
The vote gives First Minister Nicola Sturgeon the authority to demand a new ballot.
Sturgeon wants a referendum to be held before Brexit takes effect, but the British Prime Minister has already told her that "now is not the time".
Permission for a new referendum must be given by London.
The vote in the Scottish Parliament in Edinburgh backs the bid for a vote in late 2018 or early 2019, once the conditions of the UK's divorce from the EU are clearer.
The result of the vote was expected; 69 deputies said "Yes" to a motion put forward by Sturgeon and 59 said "No".
During the debate, Sturgeon said: "The people of Scotland should have the right to choose between Brexit, possibly a very hard Brexit, or becoming an independent country able to chart our own course and create a true partnership with equals across these islands."
Sturgeon met with Theresa May in Glasgow on Monday after the British Prime Minister said that "unity" was crucial to winning a good divorce deal from the European Union.
Scotland rejected independence in a referendum in 2014.