Britain's parliament braces for Brexit
Comments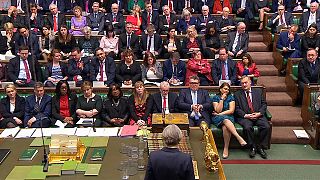 For the next two years the UK parliament will be dominated by one enormous legislative task: re-writing thousands of laws so that there are no traces of European legislation left behind.
It's momentous but it is not beyond us

Brexit Secretary
A report by the House of Commons library has described it as "one of the largest legislative projects ever undertaken in the UK."
British parliament needs to pass seven controversial post-Brexit bills to confirm EU departure https://t.co/7tMluAVesM via IBTimesUK</a></p>&mdash; Alison House (alihinspain) March 16, 2017
The government's Great Repeal Bill will have to discard every European law since the 1972 European Communities Act was signed.
With 19,000 Europe specific laws waiting to be transposed into UK law the pressure to work through them all by 2019 will be intense.
To do this ministers and other government officials may be given unheard of new powers to change UK laws which they would never normally enjoy.
There's a growing fear that government officials will seize on the opportunity to alter laws on the sly without the inconvenience of having them debated in parliament.
The most controversial areas such as immigration, will have to be debated, but parliament will also have to allow most laws to be re-written without any scrutiny.
Meanwhile government officials from the Department for Exiting the European Union are busy drawing up guidelines
and the minister tasked with achieving Brexit believes a deal will be done.
"It's momentous but it is not beyond us. It's about giving the British people what they voted for in the referendum, control of their own laws so what we are doing is bringing back those laws here so that we can do a deal across the board, which is in the interest of ourselves and the European Union," David Davis, the Brexit Secretary said.
But the government is already coming under pressure from some industries that rely on seamless pan-European co-operation.
The aviation industry for instance is questioning how air traffic control will operate over Europe's skies after 2019.
And the pharmaceuticals industry, one of Britain's biggest and most tightly regulated, is concerned at the time it will take and the costs involved in ensuring all the drugs on the market pass the new standards of safety and effectiveness.
The lights in the UK parliament are going to be burning late for many nights to come.