Europe's tough stance with UK on Brexit deal
Comments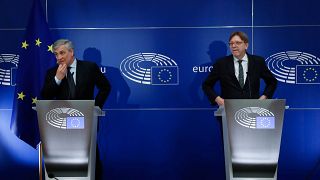 Europe will be tough on the United Kingdom if it needs to in Brexit negotiations, European Parliament President Antonio Tajani has said.
Britain and the 27 remaining EU member states now have two years to make a deal.
And Tajani said Europe's objective is to defend its citizens, and would stand up for itself.
He said: "We don't have baddies or goodies.
"We are defending the interests of citizens and if that means we have to take a tough stance, we will do so but our aim is only to defend the interests of citizens.
"If we can do so without playing the part of baddies, I would prefer that.
"I hope we can do so politely, gracefully, and in as pleasant and as nice a fashion as possible. But we'll see."
Video of presser on #Brexit of EP_President</a> & <a href="https://twitter.com/GuyVerhofstadt">GuyVerhofstadt is now available here: https://t.co/EnHvPfnJPkpic.twitter.com/xHDlWgrO6s

— EP PressService (@EuroParlPress) March 29, 2017
The European Parliament's lead Brexit negotiator, Guy Verhofstadt, wants the rights of EU nationals who arrive in the UK over the next two years to be protected.
And said MEPs are prepared to block a deal: "If the outcome of the negotiations is not in conformity with the points, with the conditions that we have put public today, yes, then we are going to use our veto power, it's clear".