Spike in civilian deaths in Iraq 'flagrant violation of international law' - Amnesty
Comments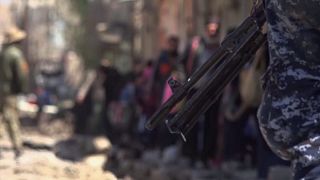 The US-led coalition against ISIL could be at fault for failing to limit civilian deaths in Iraq, according to a new report from Amnesty International.
The human rights group says that a high civilian toll suggests a failure to prevent civilian casualties, in flagrant violation of international law.
In a new report Amnesty cites evidence pointing to an 'alarming pattern' of US-led airstrikes which 'have destroyed whole houses with entire families inside' during the Mosul offensive.
"The houses fell on us, we fled alone without our belongings. If there were many people we would have been caught while fleeing," said one resident who managed to escape.
Facing accusations that a coalition air strike may have killed up to 200 civilians, the Pentagon said it wouldn't change its tactics, even as the fighting enters more densely populated areas of west Mosul, but did launch an investigation into the allegations in Mosul.
Residents told Amnesty that ISIL fighters were present in and around their buildings, making civilians human shields. One resident said, 'we are paying the price for their crimes'.