Energy VS environment: Italians rally against TAP pipeline
Comments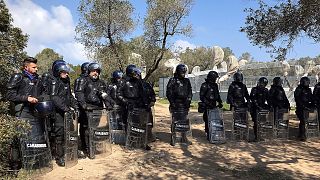 Activists and police have clashed during a protest against the construction of the Trans Adriatic Pipeline in the Puglia region of southern Italy.
Some 300 people turned out in the village of Melendugno to denounce the removal of olive trees to make way for a tunnel for the TAP pipeline.
211 trees are scheduled to be uprooted for the line which, once finished, will transport Caspian natural gas from Azerbaijan into Europe.
Both Italy's Environment Ministry and the highest court have given the project the go-ahead.
However, protesters cite environmental concerns and fears of a detrimental impact on tourism in the area.
They have suggested the line is moved further north to pass through the industrial city of Brindisi.