London attack: French school children fly home
Comments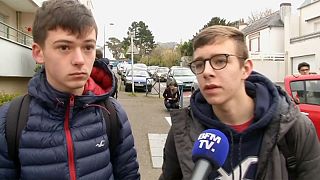 Dozens of French teenagers caught up in Wednesday's terror attack in London have flown back home.
Three of their classmates, however, still remain hosptalised in the British capital. They were injured on Westminster Bridge when Khalid Masood mowed down pedestrians with a car. Two are reported to have sustained serious fractures.
Outside the pupil's school in Brittany, classmates spoke of their shock.
"It can happen to anyone, it could have been anyone and it happened to them – shocked," one pupil said.
Another pupil said: "We were afraid for them, after class ended we called them, they explained what happened, that the car stopped thanks to two posts and they were lucky."
One parent speaking of how her daughter had witnessed the whole attack, said: "Apparently she saw everything. It's hard to communicate by text message. So she saw her friends injured, she saw the terrorist walk out of his car, so it's mainly that. ''
Around a dozen of the school's students are thought to have been on Westminster bridge when the speeding car ploughed towards them.