London attack: crowds gather in Trafalgar Square to remember victims
Comments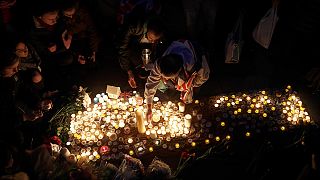 Thousands of people gathered in London's Trafalgar Square on Thursday evening for a vigil to remember those killed or injured in Wednesday's attack in Westminster.
The word solidarity was heard throughout the memorial service in which politicians and police chiefs vowed the terrorists would not win.
London Mayor Sadiq Khan, who had issued an open invite to the iconic landmark in the British capital, insisted Londoners would ''pull together''.
"This attack on our way of life, this attack on our shared values, shows the world what it means to be a Londoner. Londoners will never by cowed by terrorism," Khan said.
Crowds stood defiant as a minutes silence was held during the multi-faith vigil.
One man wearing a shirt reading ''I am a Muslim'' said:
" We are over here wearing these shirts saying "I am Muslim" so that people can believe that we are with London, we are with you, we are with the west and any attack that happens against any sort of nation, any race any culture, any religion we are with them".
Another man said: " I want to show solidarity with Londoners, I am a Londoner and I am proud to be here and I want to show to the world that we are not going to give in to these people":
It's now been revealed that people from a total of 11 different countries were caught up in Wednesday's violence.