ISIL claims responsibility for Westminster attack
Comments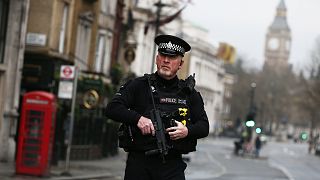 The self-proclaimed Islamic State group has claimed responsibility for the London attack through its Amaq news agency.
It said: "The perpetrator of the attacks yesterday in front of the British parliament in London is an Islamic State soldier and he carried out the operation in response to calls to target citizens of the coalition."
But the agency gave no name or other details and it was not clear whether the attacker was directly connected to the group.
The British-born assailant, once investigated by MI5 intelligence agents over violent extremism, ploughed a car into pedestrians on Westminster Bridge killing three and injuring dozens.
He then ran through the gates of the parliament building and fatally stabbing Police Constable Palmer before being shot dead by another police officer.