"Terror" dominates UK's front pages
Comments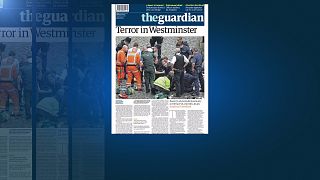 The violent events in London featured heavily on the front pages of the UK's main newspapers the morning after the attack. While some focused on MP Tobias Ellwood's unsuccessful fight to save the life of PC Keith Palmer, the unarmed police officer who rushed to confront the knife-wielding man , others pictured the suspected attacker. Above all, the majority had the word "terror" in their headlines.
MAIL: "Day terror came to Westminster"
EXPRESS: "Terror rampage at Westminster"
THETIMES: "Assault on Westminster"
The Times chose to feature attempts to resuscitate both the police officer and his attacker:
The SUN: "Maniac who knifed Britain in the heart"
The Sun pictured the attacker and the police officer.
TELEGRAPH: "We will never allow evil to drive us apart"
The Telegraph and others focused on the as-yet unnamed attacker and pictured as paramedics fought to keep him alive.