Brussels marks one year since deadly attacks
Comments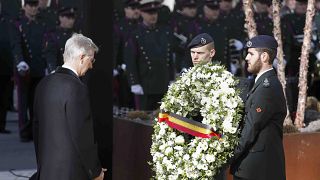 Brussels is remembering on Wednesday the victims of its airport and metro attacks, exactly one year after ISIL suicide bombers struck, killing 32 people.
Belgium's King Philippe led commemorations, beginning with a sombre ceremony at Zaventem airport.
The names of the 16 people killed there were read out and a minute's silence was observed.
Minute of silence at 7.58 in remembrance of the victims of the attacks. #itsallofus#BrusselsTributepic.twitter.com/3TgMlOMA6V

— Brussels Airport (@BrusselsAirport) 22 mars 2017
Representatives from the emergency services, relatives of the dead, survivors and staff took part.
Ceremonies continued at Maelbeek Metro Station where a second suicide attack took place on March 22, 2016, also killing 16 people.
Arrival at #Maelbeek metro station #BrusselsRemembers#BrusselsAttacks#March22#NeverForgetpic.twitter.com/h6jbiu4bpz

— Belgian Royal Palace (@MonarchieBe) 22 mars 2017
One year after the Brussels Attacks: Is the city safer today? https://t.co/tYMcLyfQYIpic.twitter.com/DuuTxUp14K

— The Brussels Times (@BrusselsTimes) 9 mars 2017
The bloodshed in Brussels came four months after ISIL bombings and shootings in Paris that left 130 people dead.
Both sets of attacks were carried out by related cells of young Muslims, some of whom had returned from fighting in Syria.
Since then, Belgium has remained on high alert as it tries to curtail threats both at home and from militants who may return from the Middle East.
As thoughts turned back to the tragic events of a year ago, European Union leaders also paid their respects.
One year after #BrusselsAttacks, we remember. #jesuisbruxelles#Iambrussels#ikbenbrussel#22maart#Zaventem#Maalbeekpic.twitter.com/gDezsDe3os

— EU Council (@EUCouncil) 22 mars 2017
with Reuters