Exclusive: Brussels attack victim from iconic photo relives horror two years on
Comments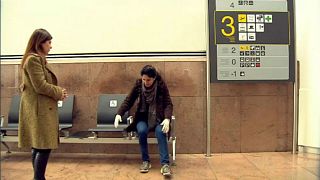 A photo, taken on 22 March 2016, shows a wounded woman, covered in dust, trying to understand what was happening around her.
Two years later, Nidhi Chaphekar went back to Zaventem Airport in Brussels for the second anniversary of the bombing that changed her life.
The Indian flight attendant spoke exclusively to Euronews' Maria Psara. Her account captures the immediacy of the traumatic events.
"The first blast took place here and I saw from the other end that it was around here, in this area. And then, it exploded again and I just heard a BOOM and was just thrown down. I flew from that side and I was lying head side down and then I was looking left and right and I looked back. Everything was in rubble, everything. And the military man, he came and dragged me to the chair. I remember. And there I sat down."
Nidhi can't remember that camera "click" that immortalised her in a photography, but she still has vivid memories of the dark time after the attack.
She counsels patience, as the wheels of Belgian justice turn slowly.
"I have been through 19 surgeries now. I dont know what will come in future. I am prepared. I am ok with it. I think that every day is a new day for me. The day has to rise. And I have to live with it, for it, and I want to have full use of it. So it dosn't bother me any more. What I feel is that what has to come must come. But how you deal with it is your perspective and that' s what I am trying to do."
Nidhi really believes that what you give, you get back. It is not by chance that the people that she meets return her ready smile.