Green liquid attack does not deter Putin opponent Navalny
Comments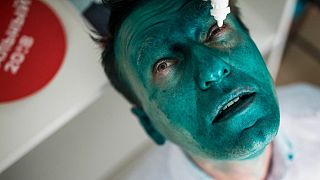 Russian opposition leader Alexei Navalny was sprayed with a green liquid by an unknown assailant in Siberia on Monday – but he turned the attack to his advantage.
A video filmed by a Navalny supporter shows the anti-corruption activist walking along a street in Barnaul, more than 3,000 kilometres from Moscow, and shaking hands with residents when a man approaches him and throws the liquid at him.
The green solution, known as "zelyonka", is sold as an antiseptic in Russian pharmacies and while not harmful, it is known for being hard to wash off. Other opposition figures have been splashed with the liquid previously.
Navalny who had been campaigning against President Vladimir Putin was undeterred, despite his face being totally stained green.
He spoke to supporters on camera, saying:
"Maybe in the Kremlin they think I won't make video addresses with a green face. But I will definitely make them because more people will watch them now and it definitely won't stop me."
And on Twitter, he said: "I will be opening a headquarters in Barnaul as if I am from the film The Mask! Cool. Even my teeth are green!"
Открывать штаб в Барнауле я буду в образе из фильма "Маска". Классно. Даже зубы зеленые! pic.twitter.com/3puuPNCuwf

— Alexey Navalny (@navalny) March 20, 2017
Navalny is touring Russia ahead of the 2018 presidential election in which he hopes to challenge incumbent Vladimir Putin.
He is determined to run despite being officially barred because of a five year suspended jail sentence for embezzlement that he was given last month.
Navalny denied wrongdoing and his supporters say the charges were politically motivated.
Even if Aleksei Navalny is barred from running for office, he cannot be written entirely out of Russian politics https://t.co/0Xl2sQfp28

— The Economist (@TheEconomist) 20 février 2017
with Reuters