Brexit fears on Gibraltar as UK prepares to trigger Article 50
Comments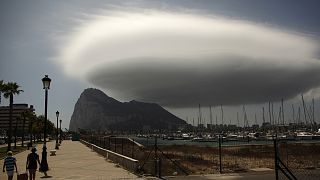 What next for 'the Rock' with the UK poised to begin the Brexit process next week?
The truth is that there is fear

Spanish worker in Gibraltar
Nearly 100 percent of voters in Gibraltar wanted to stay in the EU in last year's referendum.
And it is not difficult to see why.
With thousands of Spaniards crossing from mainland Spain every day for work in the British overseas territory, Gibraltar's economy is hugely dependent on close European connections.
"The truth is that there is fear," said Spanish worker Antonio Jose Molina de la Torre.
"We don't know what is going to happen. No-one knows… Today you hear one thing and tomorrow there are other rumours. But let's hope that it is all settled soon so that we can continue to work as we have been doing."
Between a rock and a hard place. #Brexit crashes on the shores of #Gibraltar. Read @AP@aritzparra. https://t.co/vhegaid2C7pic.twitter.com/cbIm6I90xx

— AP Business News (@APBusiness) 20 mars 2017
Financial services account for about a third of the economy in Gibraltar, which boasts an attractive tax and regulatory regime.
But with a "hard" Brexit looming, in which Britain would lose automatic access to Europe's single market, financial firms based on 'the Rock' would be prevented from offering their services in other EU countries.
Gibraltar's Chief Minister Fabian Picardo is philosophical.
"It is unfortunate, we don't want to turn our backs on Europe, but those are the cards that we have been dealt and we have to play this hand the best as possible," he said.
On Spain's southern tip, Gibraltar has hundreds of years of British history behind it. But Spain still claims the rocky enclave and Madrid called for co-sovereignty after the Brexit vote.
The impact of Brexit will be debated by Britain's House of Lords on Tuesday.
Brexit causes anguish on Gibraltar https://t.co/Z0wtjUFz1npic.twitter.com/F84WUdtJmf

— The Local Spain (@TheLocalSpain) 16 mars 2017