The struggle for the soul of the French Left hots up
Comments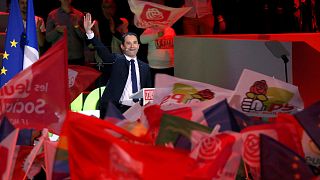 This weekend has been billed as decisive in the struggle for the soul of the French Left.
Two giant rallies in Paris have pitted the far-left against the centre-left, which is currently in government.
La France Insoumise
Supporters of Jean-Luc Melenchon's far-left "La France insoumise" (France unbowed) gathered in the popular Bastille area of the capital on Saturday.
Nous sommes 130 000 rassemblés pour la 6e République ! #18mars2017#Bastille#République – https://t.co/AAOHnufZWKpic.twitter.com/aQLZzTB9×9

— Jean-Luc Mélenchon (@JLMelenchon) 18 mars 2017
Supporters say 130,000 people gathered in the Bastille for Melenchon's rally on Saturday.
Mélenchon réussit sa République et plaide pour sa VIe https://t.co/YleKUjJZ1N

— Mediapart (@mediapart) 19 mars 2017
"Melenchon makes the case for a 6th Republic" says the Mediapart publication.
« Oui, nous sommes tes fils, Révolution ! » – Victor Hugo #18mars2017#Bastillehttps://t.co/aBKoVaMEKNpic.twitter.com/MGetTnvVEr

— Jean-Luc Mélenchon (@JLMelenchon) 18 mars 2017
"We are all the children of the Revolution," Melenchon told the gathered crowd, quoting French literary giant, Victor Hugo.
La manif #bastille de JLMelenchon</a> arrive à Répu on dirait. <a href="https://twitter.com/hashtag/18mars2017?src=hash">#18mars2017</a> <a href="https://t.co/smyD82Aj6J">pic.twitter.com/smyD82Aj6J</a></p>&mdash; Un Syndicaliste (UnSyndicaliste) 18 mars 2017
Benoit Hamon
The Socialist Party's chosen candidate held his presidential rally in the Bercy area of Paris on Sunday.
Hamon told his supporters there is no place for the market in politics.
"The "Party of the Money" has too many candidates in this election. The Party of the Money has many names, many faces, even many parties…like an octopus, money has spread its tentacles all over this election."
"The Left is my family, it is my identity, it is my life and my pride."
Hamon, who is in fourth place in the latest poll, also had harsh words for the political centre.
"How can the Liberals be a buffer against the far-right? It is thanks to them that the far-right has prospered across the whole of Europe."
Je ne crois pas que la France soit une entreprise ni que les Français rêvent d'en être les actionnaires. #HamonBercypic.twitter.com/rw6sMRzyRM

— Benoît Hamon (@benoithamon) 19 mars 2017
"I don't consider France to be a business and I do not think the French are keen to be shareholders", Hamon told the crowd at Bercy.
"Soyez ce peuple fraternel, respectueux ouvert sur le monde" et "soyons mille fois fiers de notre altruisme" #Hamon2017#HamonBercypic.twitter.com/xjqkgvcSxn

— Anthony Poulin (@AnthoPou) 19 mars 2017
"Be a brotherly society, respectful and open to the world and be a thousand times proud of our altruism."
"Merci de votre accueil, merci d'être là avec Benoit" #hamonbercypic.twitter.com/ujYaVstX6f

— Christiane Taubira (@ChTaubira) 19 mars 2017
"Thank you for your welcome, thank you for being here for Benoit" says former minister, Christiane Taubira.
Une femme en pleurs au meeting de Benoit Hamon. #HamonBercypic.twitter.com/8Er9eEvggh

— Camille Maestracci (@KmilleMaes) 19 mars 2017
A supporter is brought to tears by Hamon's speech.
What the polls say
Centrist Emmanuel Macron would be slightly ahead of far-right leader Marine Le Pen in the first round of the French presidential election, according to latest research.
Macron would go on to bear Le Pen comfortably in the second-round run-off, according to a poll by Odexa released on Sunday.
The former economy minister would win 26.5% of the vote in the first round on April 23.
This is down 0.5% from a previous Odoxa poll of voting intentions, issued two weeks ago.
However, it is still ahead of Le Pen on 26%.
At 19%, conservative Francois Fillon was unchanged from the previous poll. This would eliminate him from the run-off.
With 64%, Macron would win a second round against Le Pen who is pitched at 36%, according to the poll.
E. Macron : 26,5
M. Le Pen : 26
F. Fillon : 19
B. Hamon : 12,5
J-L Mélenchon : 10,5

pour dentsuaegisFR</a> et <a href="https://twitter.com/13h15">13h15https://t.co/gfH5OkKyyL

— Odoxa (@OdoxaSondages) 19 mars 2017
The process
On Saturday, France's Constitutional Council released the official list of 11 candidates who will take part in the first round of the presidential election on April 23.
The two candidates with the most votes in the first round will go through to a second vote two weeks later.