11 candidates to contest French presidential election
Comments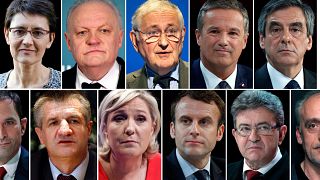 The race to become France's next president has officially begun after the definitive list of candidates was published.
The French Constitutional Council said on Saturday that 11 people had qualified to take part in the vote after receiving at least 500 endorsements from elected officials.
Three out of the six lesser known runners, which include leftist and Gaullist candidates, apparently crossed the signature threshold at the last minute.
Polls currently suggest far-right National Front leader Marine Le Pen will top the first round vote on April 23 but lose in the knockout on May 7 to centrist Emmanuel Macron.
It means France's mainstream parties risk the ignominy of not even making the knock out stage, a political first.
The centre-right's Francois Fillon had been favourite until becoming engulfed by a financial scandal. He is under formal investigation for giving his family fake jobs, something he denies.
On the left, Benoit Hamon is the ruling Socialist party's candidate, but has been hit by his former boss Francois Hollande's unpopularity.
Elsewhere, far-left firebrand Jean-Luc Melenchon, who won around 1 percent of the vote in 2012, is also in the running.
The contest is the latest focus on the European election calender after last Wednesday's Dutch vote saw Prime Mark Rutte push populist Geert Wilders into second place.