Twin suicide bomb attacks kill dozens in Syria
Comments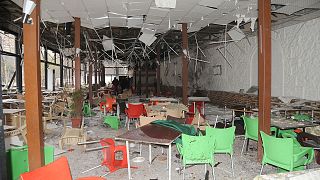 At least 31 people have been killed and dozens more wounded in two suicide bomb attacks in Damascus.
The first hit a courthouse in the Syrian capital. State media reported a bomber set off the device as police tried to search him and stop him from entering the building. Most of the casualties were civilians.
The blast hit at a time when the court house was crowded with lawyers, judges and civilians.
About two kilometres from the Palace of Justice, a second suicide attack hit a restaurant in Rabweh. SANA the state news agency reported 28 people injured in the blast, most of them women and children.
The twin attacks come on the sixth anniversary of the uprising against President Bashar al-Assad, and mark the second such spate of bombings in the capital in five days.
As jihadists fighting to oust President Assad suffer battlefield losses, analysts predict, they will increasingly turn to guerrilla tactics.