UK: May calls for Brexit unity as 'defining moment' beckons
Comments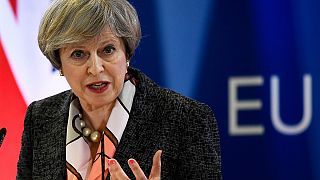 Prime Minister Theresa May has said that Britain is on the brink of 'a defining moment' as she prepares to begin the country's divorce proceedings from the EU.
It is a moment to bring our country together

British Prime Minister
Speaking in the House of Commons on Tuesday, she did not formally invoke Article 50 of the Lisbon Treaty, as some had predicted.
But May confirmed that she is sticking to her self-imposed end-of-March deadline for getting the Brexit ball rolling.
"I will return to this house before the end of this month to notify when I have formally triggered Article 50 and begun the process through which the United Kingdom will leave the European Union," May told the lower house of parliament.
"This is not a moment to play politics or create uncertainty," Theresa May tells MPs https://t.co/gwizFXBHO8pic.twitter.com/IY1Ycj6ZIJ

— Bloomberg Brexit (@Brexit) 14 mars 2017
May, appointed prime minister shortly after Britain voted to leave the EU in June, has faced down attempts in both the lower and upper houses of parliament to add conditions to the legislation giving her the right to launch the divorce.
Now that parliament has passed the Brexit bill, she said a "defining moment" was beckoning for the "whole country" – a rebuke to Scottish First Minister Nicola Sturgeon who has just demanded a second independence referendum.
"This is not a moment to play politics or create uncertainty and division… It is a moment to bring our country together, to honour the will of the British people and to shape for them a brighter future and a better Britain."
PM: The majority of Scottish people do not want a second independence referendum. pic.twitter.com/26tahA4U0x

— UK Prime Minister (@Number10gov) 13 mars 2017
Nicola Sturgeon warns Downing Street: let us set the date for Indyref2 https://t.co/x1RPUpmo9dpic.twitter.com/OMcxJgDBFb

— The Scotsman (@TheScotsman) 14 mars 2017
The economic case for Scottish independence https://t.co/CV3S0NXFaTpic.twitter.com/ok5qcLjI1B

— euronews (@euronews) 15 mars 2017
May has revealed little of her Brexit strategy but has a long wish list – wanting to win a free trade deal, maintain security cooperation, regain control over immigration and restore sovereignty over British laws.
The EU has balked at her demands, saying they amount to "having your cake and eating it".
with Reuters