European Parliament holds key to Brexit deal
Comments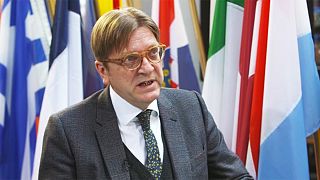 The European Parliament's chief Brexit negotiator has warned against trying to sideline the assembly once talks over the UK's exit from the EU begin.
With British Prime Minister Theresa May now free to trigger article 50, Guy Verhofstadt insisted that MEPs must have their say if a deal between the bloc and Britain is to be reached.
"It's absolutely key that the EP is involved from day one in these negotiations. Because we, at the end, within two years from now, we have to give the consent on this final agreement and it will be a very difficult moment because it's two months before the European elections that we need to give our consent and we will only give our consent if the agreement is in line with our opinion and our redlines we have indicated," Verhofstadt said.
But Nigel Farage, the man who helped secure Brexit, has said the UK must move in order to make it politically impossible for the European Parliament to even think about blocking any future deal.
"My biggest concern with the whole Brexit process is not the negotiations in Brussels, it's what comes in this building in two years time. The idea that in two years, the EP could veto all of this work by 28 member states governments worries me very greatly and says to me that what Britain needs to do is to get out and campaign hard amongst the French wine producers, the German carmakers, the Belgian chocolate manufacturers. We need to put pressure on MEP's to say: our jobs in France, Belgium and Germany, depend on continued exports to the British market. If we do that then the EP would not dare veto the deal immediately ahead of the European elections,'' Farage said.
For the moment Prime Minister Theresa May has not triggered Article 50, but has said her government will start the formal process to withdraw from the EU before the end of March.
From that point, the UK and EU have two years to come to a deal.