Catalonia's ex-leader Artur Mas banned from office over referendum
Comments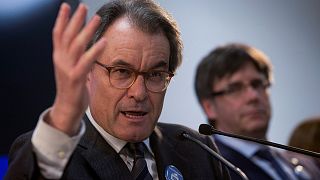 Catalonia's former leader has been barred from public office for two years for staging an informal referendum on independence from Spain.
Artur Mas – who was regional governor when the vote took place – was found guilty of contempt of court by Catalonia's Superior Court of Justice.
In a low turnout in 2014 more than 80 percent of voters backed a breakaway from Spain.
Speaking after Monday's decision Mas was defiant.
"We would do the same again, exactly the same. We do not regret anything. We are democrats. And the Democrats truly listen to people and also obey the mandates of the people who vote," he said.
Two other ministers were also banned from office while Mas was also fined by the court. He had faced a potential 10-year ban.
The politician has vowed to appeal against Monday's decision.
The 2014 referendum was deemed illegal by Spain's Constitutional Court and was staged by campaigners and volunteers.
Former Catalan leader Artur Mas given two-year public office ban over illegal referendum https://t.co/fiRPJm2vXIpic.twitter.com/BT0I8U4IZ6

— The Local Spain (@TheLocalSpain) March 13, 2017