Battle for Mosul: new camps open for civilians fleeing fighting
Comments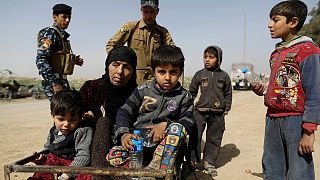 Thousands more people continue to flee fighting in Western Mosul to newly built UN camps on the outskirts of the city.
The latest influx of internally displaced comes as Iraq's army pushes deeper into densely-populated ISIL held areas.
According to one commander, Iraqi forces have now recaptured a third of the west of Mosul from Islamic State militants.
That's left the UNHCR scrabbling to accommodate the rising number of people seeking safety.
Those fleeing the fighting spoke about the brutality they had encountered.
''About fourteen or fifteen people were fleeing from Al Mansour district while the snipers were firing on them in the valley. They do not care about women, children or anything. The people were running in zig zags to avoid the sniper fire," one man said.
Another man said: ''The distributor of food products was going to hand out some aid. He was about to open the door of a shop and people gathered. As soon as he opened the door, the store exploded.''
The UN's refugee agency has said it intends to build another two camps near to Mosul that will house about 40,000 people. But, it has said it could face serious challenges should the current scale of displacement continue.