Syria: airstrikes hit rebel-held areas east of Damascus despite ceasefire
Comments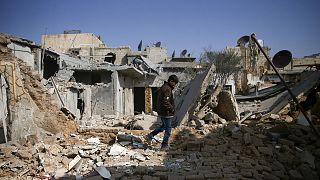 In Syria warplanes have bombed rebel-held towns east of Damascus, striking residential areas where less than 24 hours earlier Russia declared a ceasefire.
A "Reuters report':http://uk.reuters.com/article/uk-mideast-crisis-syria-ghouta-idUKKBN16F199 quoting residents, rebels and a foreign-based monitoring group says air raids hit three towns in Eastern Ghouta.
On Tuesday the Russian Defence Ministry said a ceasefire had been agreed in the area until March 20.
Video posted on social media purports to show the aftermath of airstrikes on Wednesday, with civil defence workers known as the White Helmets tending to the injured.
Reuters has said it is confident the events portrayed are genuine.
There was no immediate comment from the Syrian military, which is backed by Moscow in the conflict.
The Syrian army has reportedly recently been targeting rebel-held areas to the east of the capital.