Bomb threat in Germany after Turkish rally cancelled
Comments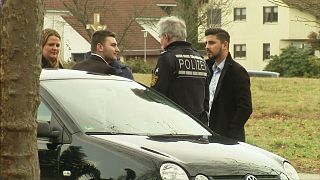 A town hall in Germany has been evacuated because of a bomb threat – a day after local authorities cancelled a rally by a Turkish government minister.
Turkey's Justice Minister was set to address Turks living in Germany in the south-western town of Gaggenau.
The cancellation has sparked a diplomatic row between the two countries.
Turkish Foreign Minister Mevlut Cavusoglu warned Germany: "Steer clear of populism ahead of this referendum.
"If you want to maintain your relations with us, you need to learn how to treat us.
You cannot tackle these matters with these methods.
"It can't go on this way. We will retaliate without hesitation. And then you can think about the rest.
"This is our message to Germany."
Ministers have been appealing to Turks living in Germany to vote 'yes' in a referendum that would expand the powers of President Tayyip Erdogan.
Bilateral lies have been strained in recent weeks, with German Chancellor Angela Merkel leading calls for the release of a Turkish-German journalist who is being held in prison.
Germans have been protesting about over the arrest of Deniz Yücel, who was held on charges of propaganda and incitement to hatred.