Obamas land biggest post-White House book deal
Comments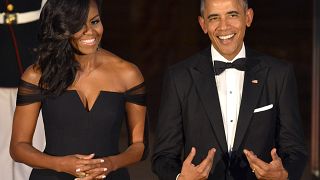 Former US-President Barack Obama and his wife Michelle secure a two-book deal, reportedly worth at least €60 million. The 44th US President and First Lady will write one book each for worldwide publisher Penguin Random House.
The sum is a record for presidential book deals. Fellow Democrat Bill Clinton earned around €15 million for this 2004 book "My Life", and his successor, Obama's predecessor George W Bush made around €10 million for his record of his time in the White House, "Decision Points".
It is understood that Penguin Random House beat competition from both HarperCollins and Simon & Schuster. Penguin Random House was also the publishers of Obama's three previous books, 1995's "Dreams of My Father", 2006's "Audacity of Hope- Thoughts on Reclaiming the American Dream" and 2010's "Of Thee I Sing: A Letter to My Daughters".
The subject of the books has not been confirmed, though they will presumably chronicle the Obamas' time in the White House.
In a statement the publisher said they are looking forward to making "each of their books global publishing events of unprecedented scope and significance". They added that Penguin Random House plan to donate one million books to First Book, a charity providing learning materials to children in need.
The Obamas will also donate a "significant portion" of what they earn from the books to charities, including the Obama Foundation, which focuses on "developing the next generation of citizens".
The titles and publication dates of the books are as yet unknown.