Dakota access pipeline protest draws to a close
Comments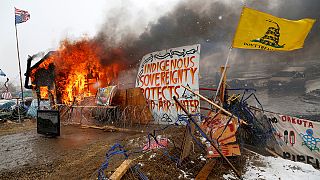 Demonstrators marched out to singing and drums as their six-month protest against an oil pipeline in North Dakota drew to an end. Despite last-minute calls for the public to support their cause, their departure was, for the most part, peaceful.
We need all your prayers. Tomorrow they will come for us. Regardless, we rise. Keep your eyes on Standing Rock. We are still here. #NoDAPLpic.twitter.com/NrFEViwL3r

— Sacred Stone Camp (@SacredStoneCamp) February 22, 2017
Final legal obstacles removed
Last month President Trump signed an executive order which reversed a decision taken by the Obama administration and removed the final obstacles to the completion of the pipeline.
In mid-February a US federal judge rejected a last-ditch legal challenge to the controversial project from the Cheyenne and Standing Rock Sioux tribes.
North Dakota Governor Doug Burgum gave inhabitants of the Oceti Oyate Camp until 2pm on Wednesday to leave, saying
our big ask for tomorrow is that anybody remaining at the camp, we want to make sure they know they have the opportunity to voluntarily leave, take your belongings, remove anything that you may think is culturally significant and we'll help you get on your way if you need to do that.
Fire at the camp
Demonstrators set some of their makeshift housing on fire as part of a leaving ceremony before the deadline.
Despite this, between 25 and 50 protesters remain at the site. One told reporters that
You know [I'm] a little scared of getting arrested and whatever consequences come from that but I believe full-heartedly in the movement here and am willing to risk that.
What are the issues?
The camp has been a focal point for environmental activists and indigenous rights campaigners, who say the project endangers local water supply and tribal cultural sites. Even the Vatican has expressed support for Native American opponents to the construction project.
It had between 5,000 and 10,000 inhabitants at the movement's peak last December, despite harsh winter weather conditions.
Energy Transfer Partners LP, the company building the pipeline, needs to run it beneath Lake Oahe, part of the Missouri River system, to connect the final two sections of the 1,885 km system which will provide access to the numerous oil refineries of the Gulf of Mexico.