Pope backs Native Americans in Dakota Access Pipeline row
Comments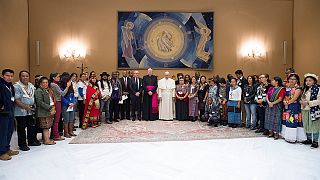 Pope Francis appears to have taken the side of Native Americans in the Dakota Access Pipeline dispute.
The pope said that indigenous cultures have a right to defend "their ancestral relationship to the earth."
#PopeFrancis met this morning with representatives of indigenous peoples. (oss_romano</a> photo with no caption info) <a href="https://t.co/FpalOjNzgQ">pic.twitter.com/FpalOjNzgQ</a></p>&mdash; Cindy Wooden (Cindy_Wooden) February 15, 2017
Although the pontiff did not mention the Native Americans by name he clearly stated that development had to take into account "the protection of the particular characteristics of indigenous peoples and their territories."
The Standing Rock Sioux and Cheyenne River Sioux tribes have argued the project would prevent them from practicing religious ceremonies at a lake they say is surrounded by sacred ground.
Pope Francis says Indigenous people have rights over their lands https://t.co/En7juY53bapic.twitter.com/EUQFaNYYjZ

—

CBC

Indigenous (@CBCIndigenous) February 15, 2017
Thousands of tribe members, environmentalists and others set up camps last year on Army Corps land in the North Dakota plains as protests intensified.
In December, the administration of former U.S. President Barack Obama denied the last permit needed by Energy Transfer Partners, which is building the $3.8 billion pipeline.
But last week, the U.S. Army Corps of Engineers granted a final easement, after President Donald Trump issued an order to advance the project days after he took office in January.
The pope was speaking at a meeting of indigenous peoples at the Vatican.