Last-ditch legal bid to stop North Dakota pipeline fails
Comments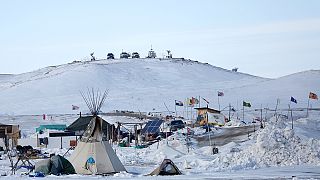 A US federal judge has rejected a last-ditch legal challenge from a Native American tribe to halt construction of the controversial North Dakota pipeline.
It follows last week's clearance for the project to resume despite claims by the the Cheyenne and Standing Rock Sioux tribes that it endangers their cultural sites and water supply.
The pipeline had been put on hold under the previous Obama administration but "Donald Trump has since put it "back on track".":http://www.euronews.com/2017/01/24/trump-accelerates-controversial-keystone-and-dakota-pipelines
Energy Transfer Partners LP, the company building the pipeline needs only to cross beneath Lake Oahe, part of the Missouri River system, to connect a final 335m gap in the 1,885 km pipeline, which will move oil from the Bakken shale formation to a terminus in Patoka, Illinois.
From there the oil will flow to another pipeline connecting south-central Illinois to the Gulf of Mexico and that region's numerous oil refineries.
Supporters say the pipeline will be safer than transporting oil by rail or road, and industry leaders have praised the project for creating high-paying jobs
With work on the final tranche now under way, Energy Transfer Partners expects the Dakota Access Pipeline to begin operations in approximately 83 days.