Scores need rescuing from rising flood waters in Silicon Valley
Comments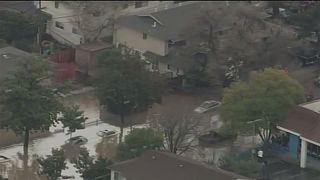 Rescue workers have been forced to evacuate scores of people from a San Jose neighborhood in California after flood waters from an overflowing creek inundated a residential area.
Around 200 were taken from their homes while more had to be rescued from their cars as water levels began to rise along the Coyote Creek in a neighborhood of Rock Springs in Silicon Valley.
Last weekend, California lived through its biggest storm in years which unleashed a wave of rain and snow that killed at least three people and triggered flooding, mudslides, high winds and power cuts.
Parts of Southern California have been the slowest to exit the drought. But the state's reservoirs are 22 percent more full than the average, according to the California Department of Water Resources.