'Weather Bomb' mega-storm hits California
Comments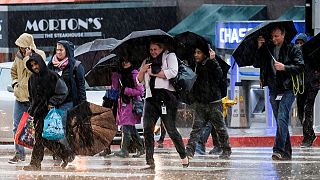 A colossal storm has been causing mayhem in California, with torrential rain, flash floods, strong winds and… sinkholes.
Miraculously, no-one was seriously hurt when two cars fell into a giant sinkhole in Studio City, Los Angeles.
One driver escaped before his vehicle dropped. But a woman in the other went over the edge. Discovered standing on her upside down car, fire crews had to help her up with an extension ladder.
Sinkhole swallows two cars in Studio City https://t.co/Ryut9pvZHtpic.twitter.com/m1GVj1rO3P

— Los Angeles Times (@latimes) 18 février 2017
The city of Duarte, about 20 miles (32 km) east of Los Angeles, said it ordered residents of 180 homes to evacuate given the potential for mudslides.
Rain & mud flow ramping up as storm passes over #Duarte. @KABCRadiopic.twitter.com/PopFSNxWQk

— James Rojas (@JamesRojasKABC) 17 février 2017
Dubbed the 'Weather Bomb', the storm is one of California's strongest for years and has claimed at least two lives.
The Los Angeles Fire Department said within four hours on Friday afternoon it responded to 150 reports of downed wires, one of which led to a fatality.
Another person was found dead in a submerged vehicle, about 100 miles east of the city.
Quigley Canyon in Newhall #LASD#SCVpic.twitter.com/SJC0k5cStE

— SCV Sheriff (@SCVSHERIFF) 17 février 2017
Power cuts have hit tens of thousands of homes and hundreds of flights have been cancelled or delayed.
And for those battling the elements on the ground, this is anything but 'California Dreamin'!'
Walking home and there's a massive storm in California. At this point my umbrella doesn't even work anymore lmao pic.twitter.com/GNlwDFSr0X

— K R Λ V Ξ N (@KravenConcepts) 17 février 2017
with Reuters