California dam evacuees are told they can go home
Comments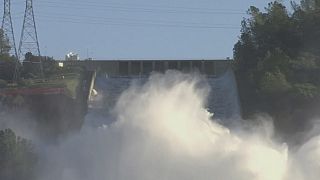 An evacuation order for around 180,000 people who live below the highest dam in the US has been lifted.
The authorities say they have managed to lower the water level in the dam relieving pressure on damaged spillways.
It means that locals can return home, but they have been warned they should be prepared to evacuate again if necessary.
Immediate Evacuation Order reduced to Evacuation Warning. Residents should stay diligent and tuned to emergency information. ButteSheriff</a> <a href="https://t.co/XnyAxDH4dx">https://t.co/XnyAxDH4dx</a></p>&mdash; Butte County, CA (CountyofButte) February 14, 2017
Bill Croyle from California's Department of Water Resources said the dam is being constantly assessed.
"The spillway has been stable for four days. That's important for today and the coming days as we see more storms, small storms coming in, but really preparing also for the remainder of the wet season."
Tones of rock and sand have been air lifted into place to reinforce the eroded sections of the spillways while engineers drained water out of the lake behind the dam.
Storms are forecast this week but its now believed the lake's levels are low enough to cope.
What happened
Both the primary and backup drainage channels of the dam, known as spillways, were damaged after a buildup of water that resulted from an extraordinarily wet winter in Northern California that followed years of severe drought.
Swift action to shore up both spillways while also relieving pressure on the dam averted the immediate danger of a dam failure.