One hard act to follow - French artist Abraham Poincheval entombed in a rock for a week
Comments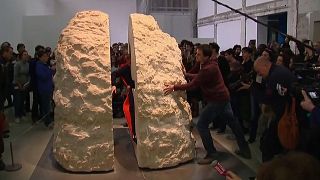 You may think it is a cracking story, or the man at the centre of it is just cracked, but it is definitely one hard act to follow.
French artist Abraham Poincheval has been entombed in a rock for a week. The stunt will see him try to use his body heat to hatch a dozen eggs.
Poincheval was enclosed in the 12 tonne boulder at Paris' modern art museum on Wednesday. He is set to emerge after seven days with the chicks.
Whether he will need the toilet is anyone's guess but it is not the first time the artist has toyed with the bizarre or claustrophobic.
Poincheval once spent a fortnight living inside a stuffed bear.
He has also floated along France's Rhone river inside a giant corked bottle.
Abraham Poincheval, enfermé volontaire dans un bloc de pierre PalaisdeTokyo</a> <a href="https://t.co/KICqAMpVEd">https://t.co/KICqAMpVEd</a></p>— Artprice.com (artpricedotcom) February 12, 2017
Et si l'art remplaçait la pub dans le métro ? https://t.co/FuNcpYptmKpic.twitter.com/S5rpJJwOOb

— Alexia Guggémos (@alexia_guggemos) February 22, 2017
And then there was that moment he spent six days and four nights living on a suspended platform in the French city of Rennes.
#AbrahamPointcheval à 12m il contemple #rennes. Attaché,18l d'eau, 2 briquets 1 réchaud,1 duvet, 1 cape de pluie pic.twitter.com/LX8WFmMtmD

— RennesVilleMétropole (@metropolerennes) February 14, 2016
He has promised that the chicks that do hatch, will go to live with his parents.